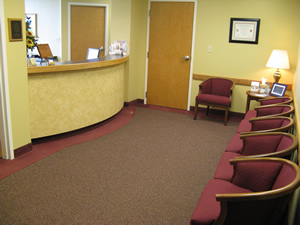 The first visit to a new doctor's office is always stressful. We hope to ease some of that stress, starting with the moment you walk in our office.
Our reception area is a place where you can relax for those few minutes prior to your visit. Often, people take this time to complete the necessary paperwork such as medical history and personal information. If you plan to use this time for that purpose, we ask that you arrive 15 minutes prior to you scheduled appointment to allow enough time to complete the forms. If you prefer, you can also download the forms and complete them at your convenience. Just remember to bring them with you to your first appointment. [download forms]
From the moment you enter our office you will notice the smiling faces of our staff. They are there to help you, if you have any questions please feel free to ask.
After discussing your concerns, Dr. Werkmeister will perform a thorough exam. This exam allows him to properly diagnose your specific situation and develop your custom treatment plan. Dr. Werkmeister will always discuss his findings with both you and your general dentist.
We are confident that your first visit will be comfortable and informative. If at any time you feel uncomfortable, please speak up and we will do our best to put you at ease.